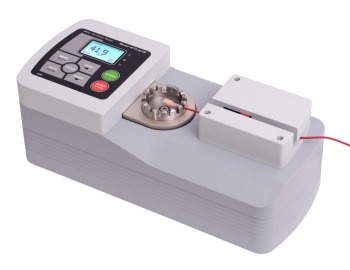 Click on an image for a larger image
WT3-201M Motorized Wire Pull Tester

The WT3-201M Motorized Wire Crimp Pull Tester is designed to measure pull-off forces of up to 100 kg for wire and tube terminations.
It tests according to UL, ISO, ASTM, SAE, MIL, and other standards for destructive testing.

It can test wire sizes from AWG30 to AWG 3 (0.3 - 6.3 mm), or custom sizes via the available machinable blank fixture.

The WT3-201M can perform Destructive or optionally Non-destructive testing, such as pulling to a load (option WF011) or maintaining a load (option WF012) for a specified period of time, as per the requirements of UL 486A/B.

Auto-start automatically starts the test when the wire sample has been loaded. When the sample breaks, the tester can auto-reverse, output the peak force, store the peak force, and zero the display automatically, thereby increasing testing throughput.

The programmable pass/fail limits with red and green indicators and audio alerts helps to identify non-conforming samples.

Further testing efficiency is achieved via the available Profiles function, through which multiple test setups may be saved and recalled as required.

On-board data storage and statistical calculations is provided for up to 2,000 readings, optional is the date and time stamp (option WF013) for each saved data point.

Data can be transferred to a PC or other data collector via USB, RS-232, Mitutoyo (Digimatic), or analog outputs.

The tester is delivered with MESURLite data acquisition software.

(MESURLite software tabulates single point or continuous data, with one-click export to Excel for further data processing.)

Measures real-time and peak force values
Auto-start upon sample insertion
USB, RS-232, Mitutoyo (Digimatic), and analog outputs
2,000-point data memory with statistics, output, and date and time stamp (date and time stamp is optional)
Selectable test speed, w/high speed approach and reverse
Pull to a specified load or maintain load for a specified period of time, as per UL 486A/B (optional functions)
Automatic reverse / output / data storage / zeroing upon sample break helps automate testing processes
Password protection prevents unauthorized changes
Pass / fail indicators, audio alerts, and outputs
Save and recall up to 500 profiles for various test requirements (optional function)
Auto-reverse at sample break or load
Date / time stamp for all saved data (optional function)
Capacity x Resolution
100 x 0.05 kgF | 1,000 x 0.5 N | 1 x 0.0005 kN | 3200 x 2 ozF | 200 x 0.1 lbF
Accuracy
±0.2% of full scale
Minimum Sample length
165 mm, excluding termination
Wire gauge range
AWG30 - AWG 3 (0.3 - 6.3 mm)
Slot widths standard fixture
0,3/ 0,7/ 1,0/ 1,5/ 2,0/ 2,3/ 2,8/ 3,0/ 3,5/ 3,8/ 4,3/ 4,5/ 5,1/ 5,3/ 5,8/ 6,3 mm
Max. elongation
Test speed: 10 - 300 mm/min
Approach/reverse speed: 325 - 2,400 mm/min
Speed setting accuracy
±0.2%
Speed variation with load
±0%, Stepper motor driven
Safe overload
150% of full scale (display shows "OVER" at 110% and above)
Outputs
USB / RS-232: Configurable up to 115,200 baud.

Power
Universal input 80-240 VAC, 50/60 Hz
Battery Life
Backlight on: up to 7 hours of continuous use

Operating Temperature
4 to 38° C
Weight
12 Kg (shipping weight 14 kg)

Standard bearbeitbare Befestigungsplatte
Einstellbare Kabelschuhbefestigungsplatte geeignet für Drahtdurchmesser bis zu 6.3mm









Starts automatically
The tester automatically starts when the sample is loaded, and returns to home when the sample breaks.









Pinch guard
As the test begins, serrated cams engage the sample. A pinch guard (red tab shown above) automatically rotates into position, for added safety.









Multiple profiles
Save and recall multiple profiles, for quick and accurate switchover to different test methods.



Scope of delivery:
WT3-201M with standard terminal fixture
Power cord,
Quick-start guide,
USB cable,
Resource CD (USB driver, MESUR™ Lite software, MESUR™gauge DEMO software, User's guide),
Certificate of calibration without data(with data is optional).

(Kit will be delivered without the illustrated carring case)

| Feature | Part No. | Description |
| --- | --- | --- |
| Profiles | WF010 | Save and recall sets of test parameters, such as speed, pass/fail limits, unit of measurement, etc. Maximum of 500 profiles may be stored. |
| Pull to load | WF011 | The tester will stop when the specified load has been reached. |
| Load holding | WF012 | The tester will stop and maintain a specified load for a specified period of time. |
| Date and time stamp | WF013 | A date and time stamp is applied to each saved data point. |
| Complete options package | WFCOMP | Includes all Controller Features listed above. |

Ring terminal fixture (WT3002)
Secures ring terminations. Pin diameters from 3.2 to 9.5 mm.




Machinable blank terminal fixture (WT3003)
For unique sample shapes and sizes.





Carrying case (WT3004)
Provides storage space for the WT3-201M tester, optional ring terminal fixture, power cord, USB cable, and accessories.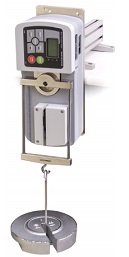 Calibration fixture (AC1049)
Complete set of brackets and hardware for calibration of the motorized and manual wire crimp pull testers. Weights and hanger not available from Checkline.

Product name
Price
Quantity
All mentioned prices are excluding VAT & excluding shipment costs.
Availability: Available , preorder 1-2 weeks , special order, request