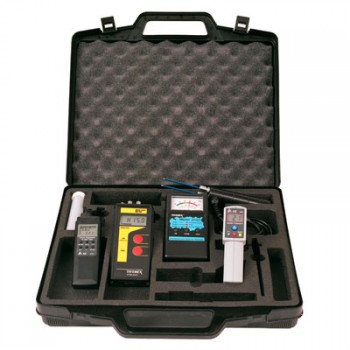 Click on an image for a larger image
Tramex Marine Moisture Survey Kit
The Tramex Marine Survey Kit is a complete moisture inspection kit for the marine industry, allowing the user to check GRP for signs of osmosis and interior wood fittings for elevated moisture content among other tests.

The Tramex Marine Survey Kit includes a Tramex Skipper Plus moisture meter which is a pocket size, non-destructive moisture meter designed to locate moisture in boat hulls and fittings. The Skipper Plus provides a complete, safe method for detecting excess moisture in GRP and wooden boats. It has three ranges of operation making it suitable for use on wood and fiberglass, in fresh or salt water.

The Professional is a hand-held instrument designed to take precise measurements of moisture content in wood and wood products. Using built-in electronic probes, or optional interchangeable electrodes, the Professional is easy to use. It is giving readings from 8% to 40% in 0.1% increments over the entire measurement range. Readings are displayed on the large clearview digital LCD dial. A choice of interchangeable electrodes and pins makes the Professional flexible enough for virtually any application. The selection of electrodes includes: deep hammer type, shallow penetration and deep wall type.

These portable, battery-operated meters combine a sophisticated electronic design with a durable, lightweight aluminum housing.



Three ranges for detecting moisture in GRP and hardwood, for salt & fresh water.
Wide range of readings for wood of 5% to 30% on hard wood scale and 0 to 100 on comparative scale for GRP and other materials.
Confirms if wooden boats are dry enough for painting or varnishing.
Trace deck and bulkhead leaks.
Test moisture content of internal environment.
Identifies the presence of osmosis in fibreglass hulls.
Hold function facilitates ease of recording readings.
High moisture audio warning tone that can be switched on or off.
Battery operated (included)
The Tramex Marine Moisture Survey Kit is delivered as a complete kit including:
Tramex Skipper Plus Moisture Detector
Professional pin-type moisture meter
Hand held electrode w/3" pins
Digital hygrometer
Infrared Surface Thermometer
Meter batteries
Instructions
Foamlined case
| | |
| --- | --- |
| Warranty | 1 year |
| Weight | 2.9 kg |
| Case measurements | 41 x 35 x 12 cm |
Tramex Skipper Plus Tramex Skipper Plus Marine Moisture Detector (Non-Destructive)
Non-destructive detection and measurement of moisture in wooden boats, GRP (Glass Reinforced Plastic) boat hulls, wooden parts, components, decks etc.
External rubber electrodes in direct contact with material being tested for best sensitivity, repeatability and greater depth of signal penetration.
Wide range of readings for wood of 5 to 30% on hard wood scale and 0 to 100 on comparative scale for GRP and other materials.
Three measurement ranges optimized for testing of different materials such as hardwood, GRP and surface moisture.
More details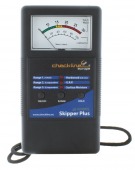 Tramex Professional Tramex Professional Digital Wood Moisture Meter
Immediate accurate readings on a clear easy-to-read meter
Built-in electrodes - ready for service
Wide moisture content range: 6 to 40% on wood
More details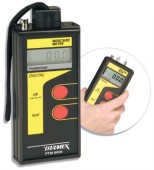 Tramex Electrode 90mm HH14SP90 - Tramex Hand Held Electrode 90mm (with cable and pins)
Tramex HH14SP90 - Hand Held Electrode (with cable & 90mm pins)
More details