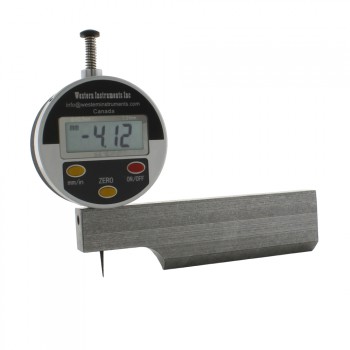 Click on an image for a larger image
N88-5-D Reaching Digital metric and imperial Pit Gauge and 121 mm blade
Reaching crack, dent and corrosion pit gauge with 121 mm blade to span larger areas. Makes it possible to measure material loss, cracks and small dents in the material.
Pit depth gauges are used to determine the amount of surface corrosion on metal constructions like pipelines, support structures, storage tanks, drill pipes or steel bridges But they can also be used on aircraft components or concrete structures. The measurements can be focused on local corrosion areas but with the proper extensions the corrosion inspector can span larger areas to determine the material loss and/or dents over these larger areas.
Our N88 range of pit depth gauges contains lever pit depth gauges used for basic measurement of pit depth, and continues with the Tri weld welding gauge a multi-purpose lever-style weld measurement gauge. It measures next to crack and pit depth 9 different welding parameters.
The range is followed by the dial gauges, digital and analog. Dial gauges are more accurate easy to use push to read gauges. We can supply a variety of kits to match your demand. The basic kits provide fast and acurate pit depth readings on small corrosion areas. The reaching pit gauges provide measurements on small dents and medium size corrosion areas. The bridging kits with longer extensions can span larger areas to measure material loss or dent depth over these larger areas The easy to use push to read dial indicators in the N88 series are completely interchangeable between all models of blades and bridges. Three different contact points can be supplied but any ADG contact point can be used however different lengths may effect the height zeroing.
Our Pit Gauges assure compliance with vessel, pipeline, tank and OCTG specifications for corrosion and erosion depth measurement.
Digital metric and imperial gauge
Resolution 0.01 mm
Range 0.0 to 12.7 mm
Measurement by manual pressure by plunger
121 mm blade
Read indicators are interchangeable with all model bridges and blades in the N88 series
Conforms to ASTM G46-94
Includes NIST- Traceable Calibration Certificate
The complete kit includes:
Digital metric/imperial gauge
2 button cell batteries
Needle tip (#1)
Conical tip (#2)
Blade 121.0 mm
Allen wrench
NIST Certificate
Instruction manual
Wooden box 160 mm x 220 mm x 52.5 mm (L x B x H)
1

Contact Point (or Standard) – N88-S. This Contact Point was designed for general Corrosion Testing, and remains the most universal in use. The #1 tapers down, over its length, to a blunt point that is less than 0.75mm (0.030") in Diameter.

2

Contact Point (or Conical) – N88-C. This Contact Point is more robust than the Standard Contact Point, due to its much larger size. The #2 Contact Point is recommended when a large amount of Scanning is being performed. The #2 tapers down, over its length, to a rounded point that is approximately 0.5mm (0.020") in Diameter.

3

Needle Point – N88-N The Needle Point was developed to satisfy the needs of Corrosion Coupon Evaluations, where pits are shallow and small in diameter. The #3 Needle Point tapers down to a very sharp point, so as a result they tend to be very delicate.
The vertical position of the Contact Point, needs to be Zeroed with respect to the Knife Edge of the Blade. Zeroing can be accomplished in two ways; by adjusting the Height of the Dial Indicator in the Blade; or by Rotating the outer Bezel Scale while pressing on the Plunger onto a flat surface.
Height Zeroing,
Loosen the Fastener(s) holding the Dial Indicator in place. Hold the Blade firmly on a Flat Surface, and gently press the body of the Dial Indicator down until the contact point touches the flat surface. Carefully re-tighten the Clamp Fastener(s) or the Set Screw. Any fine zeroing can be done by rotating the Bezel Scale on the Dial Indicator
Digital Zeroing,
To Zero the Digital Indicator simply press the Zero Button when the Contact Point is on a reference point. If the Digital Indicator is Height Zeroed, press
Zero when the Plunger is fully retracted.
N88-5-M Reaching Pit Gauge with metric dial and 121 mm blade
Analog metric gauge
Resolution 0.01 mm
Measurement by manual pressure by plunger
More details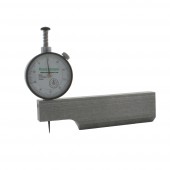 N88-VI-D Pit Depth Gauge Digital Vessel Inspection Kit
Digital metric and imperial gauge
Resolution 0.01 mm
Range 0.0 to 12.7 mm
More details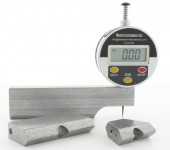 N88-VI-M Pit Depth Gauge Metric Vessel Inspection Kit
Analog metric gauge
Resolution 0.01 mm
Range 0.0 to 12.7 mm
More details
Measuring range
0.0 to 12.7 mm (0-0.5")
Resolution
0.01 mm (0.001")
Spring force
Self retracting needle
Weight (including case)
595 grams
Dimensions case
160 mm x 220 mm x 52.5 mm (L x B x H)
Display
LCD 4 digits, 9.6 mm high
Battery
Button cell 357 / 303 / V357 / V303 / SR44
Temperature range
10 - 45°C
Product name
Price
Quantity