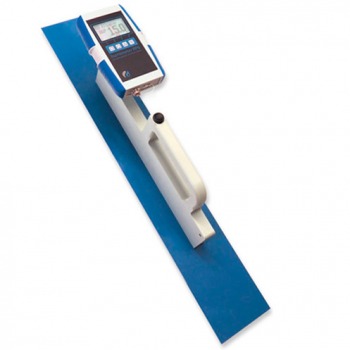 Click on an image for a larger image
RP6 Recycling Paper Moisture Meter
The RP6 is a Recycling Paper Moisture Meter for the determination of moisture in recycling paper and for the detection of moisture spots in recycling paper bales up to a measuring depth of 500 mm.

This Recycling Paper Moisture Meter is suitable for the measurement of pressed piles, roles and pulp.
This Recycling Paper meter can determine the absolute moisture content in volume percent within seconds and with high precision.

It can be connected with an air humidity and temperature sensor in order to measure environmental parameters and other paper key figures quickly and efficiently.

This model is equipped with a USB interface for data output, PC software and a USB cable are included.


Quick and highly accurate measurement using a non-destructive method
Hold function, automatic datalog and manual saving for up to 10,000 logs with measuring point report
Includes LogMemorizer PC Software and USB Cable
Large, well-lit LC-Display
Menu languages: English, German, Italian, French, Spanish, Russian and many others on request
Measuring range: 1 to 50% water content (depending on the material)
Resolution: 0.5% water content
Measuring depth: max. 500 mm
Automatic temperature compensation
Temperature can be set to °C or °F as required
Measurement within seconds without prior treatment of samples
Interface for the connection of further external sensors
Optional:
Portable thermo printer, Bluetooth module, humidity and temperature sensor, test medium
The RP6 is delivered as a complete kit including:
RP6 Recycling Paper Moisture Meter
USB cable
LogMemorizer PC Software
Rechargeable batteries (Li-Ion 1950mAh)
Battery charger
Plastic carrying case
| | |
| --- | --- |
| Measuring range | 0 % to 50% water content |
| Temperature measuring range | -10 °C to +50 °C (0.5 °C), 14 to 122 °F (0.5 °F) |
| Resolution | 0.5% water content |
| Operation temperature | 0 to +50°C / 32 to 122°F |
| Storage temperature | -20 °C to +60 °C, -4 to 140 °F |
| Data logger | Up to 10,000 measurements |
| Measuring depth | Max. 500 mm |
| Temperature compensation | Automatically |
| Calibration | Up to 23 different materials |
| Power | LI-Ion accumulator 1950mAh (for 60 to 100 operating hours) |
| Current consumption | 40mA (with light) |
| Display | 128 x 64 matrix display, with light |
| Warranty | 2 years |
| Dimensions | 620 mm x 100 mm x 147 mm |
| Weight | appr. 1 kg ((with batteries) |
| Degree of protection | IP64 |
| Menu languages | English, German, Italian, French, Spanish, Russian, many other on request |