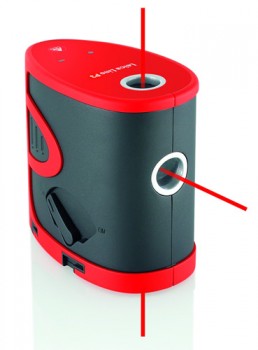 Click on an image for a larger image
Leica Lino P3 3 dot laser
The Leica Lino P3 is excellent for plumbing up and down and transfers all the points you need, quickly and accurately. It features the Power Range Technology™, a magnetic multifunctional adaptor and it's self levelling.

Self-levelling
It is not necessary to tediously align the device to obtain horizontal or vertical lines. Minor angular misalignments of ± 4° are compensated automatically. If the angular misalignment is greater, the device does not project any lines. Errors are prevented.

Plumbing
The Leica Lino P3 is excellent for plumbing up and down. The laser beam is projected above and below the instrument, allowing you to transfer reference points quickly and efficiently, e.g. from floor to ceiling.

Multifunction adapter
The adapter supplied with the Leica Lino P3 positions the instrument quickly and with absolute precision. You can set up the adapter over edges and profiles, attach it to circular columns or fix it to steel or iron pipes with the integrated magnets.

Rugged box
The Leica Lino P3 is dust and splash-proof to IP54 and can be locked to protect the instrument during transport.
Self-levelling
Magnetic multifunction adapter
Plumbing
Rugged box
| Function | Lino P3 | Lino P5 | Lino L2 | Lino L2+ | Lino L2P5 |
| --- | --- | --- | --- | --- | --- |
| Plumbing up and down | | | | | |
| Setting out right angles | | | | | |
| Horizontal levelling | | | | | |
| Vertical aligning | | | | | |
| Vertical and horizontal aligning | | | | | |
| Aligning at any angle | | | | | |
The Leica Lino P3 is delivered as a complete kit and includes:

- gauge
- target plate
- Magnetic multifunction adapter
- Alkaline batteries (type AA, 3 × 1.5V)
- Pouch


| | |
| --- | --- |
| Range: | up to 15 m depending on lighting conditions |
| Levelling accuracy at 5 m: | ± 1.5 mm |
| Self-levelling range | 4° ± 0.5° |
| Accuracy of plumb point at 5 m: | ± 1.5 mm |
| Number of laser points | 3 |
| Beam direction | up, down, forward |
| Laser type | 635 nm, laser class II |
| Batteries | type AA 3 × 1.5 V |
| Protection class splash water / dust proof | IP54 |
| Operating temperature | –10 °C to 40 °C |
| Storage temperature | –25 °C to 70 °C |
| Dimensions (H × D × W) | 99.1 × 108.1 × 59.3 mm |
| Weight without batteries | 310 g |
| Tripod thread | ¼" |