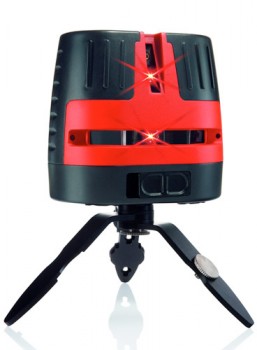 Click on an image for a larger image
Leica Lino L360 Lino L360 - A 360 Degrees Horizontal Visible Line
The Leica Lino L360 projects laser lines exactly, fast and in every direction. The horizontal laser line has a range of 360 degrees. The Lino L360 is equipped with Power Range Technology™ which guarantees excellent visibility of the laser lines.

The Lino L360 is a valueable partner for every location and enables perfect alignment. The instrument is also equipped with a vertical laser line with a range of 180 degrees for optimal ease of alignment.

The instrument can be positioned quickly, the automatically levelling laser projects horizontal and vertical laser lines immediately. Small angle deviations up to 3.5°± 0.5° are automatically compensated. When the instrument is tilted more the the laser starts to blink, this indicates that the lines are not levelled.

The Leica Lino L360 is supplied with a smart mini-tripod and adapter. This accessory is much more then a small tripod, with the integrated magnets it can be mounted to a steel or iron object. The tripod can also be used as a wall-mount adapter and can be mounted by simply hanging it on a nail or screw.
360° horizontal line close to the floor level
180° vertical line
Self-levelling based on a damped pendulum system
High accuracy of 1.5mm at 5m
Rechargeable battery pack for extended operating time of more then 20 hours
Dust and splashwater proof – IP65
The Lino L360 is deliverey as a complete kit including:
Leica Lino L360 Line Laser
Target plate red
Mini tripod adapter
International charger with 4 plugs
Quick start guide
Safety manual
Product documentation on CD
Delivered in a hard case
Leica CLR290 Clamp rod
For stepless positioning of lasers at different heights up to 2.90m
Universal mounting platform for Leica Lino and Roteo lasers.
Lino: P3, P5, L2, L2+, L2P5, L360
Roteo: 20HV, 35, 35G
Platform adaptable for 5/8 and 1/4 threads
More details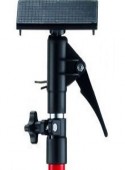 Leica RVL 100 Laser Receiver
Ergonomically designed display on the front and the back
For finding red pulsed laser beams over longer distances or in difficult light conditions
Optical and acoustic signals help to find the laser plane
For the models: Lino L2, Lino L2+, Lino L2P5 and Lino L360
More details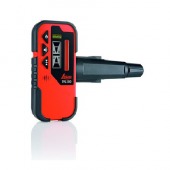 | | |
| --- | --- |
| Range | up to 15 m (depending on lighting conditions) |
| Range with detector | > 15 m |
| Levelling accuracy | ± 1,5 mm at a distance of 5 m |
| Self-levelling range | 3,5° ± 0,5 |
| Accuracy of horizontal line | ± 1,5 mm at a distance of 5 m |
| Accuracy of vertical line | ± 0,75 mm at a distance of 3 m |
| Beam divergence | 360° horizontally and < 180° vertically |
| Laser type | 635 nm Laser class II |
| Power supply | Rechargeable battery pack with international adapter |
| Protection class | IP65 (dust and splash water proof) |
| Operating temperature | -10°C to 40°C |
| Storage temperature | -25°C to 70°C |
| Dimensions | 131.7 x 145 x 96.2 mm (HxDxB) |
| Weight | 1009 g (including battery pack) |
| Tripod thread | 1/4 inch |
| EAN code | 7640110694206 |
| Warranty | 2 years limited warranty (3 years after registration) |