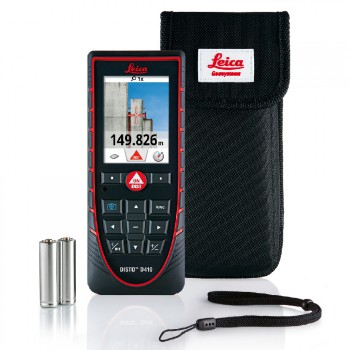 Click on an image for a larger image
Disto D410 - Precise targeting and simple outdoor measurement!

The Leica DISTO™ D410 stands for easy and effortless outdoor distance measurement. With its digital Pointfinder you can target and measure distances even when the laser dot is invisible in outdoor conditions. Accurate targeting provides reliable results, especially over long distances and in glaring sunshine. Reliable results can be guaranteed through the protection class IP 65.

Pointfinder with 4x zoom
IP65 water jet protection and dust-tight
Height tracking
Smart Horizontal Mode™
Large colour display screen
Simple and precise targeting - Pointfinder with 4x zoom
With the Pointfinder, the Leica DISTO™ D410 takes measurements with perfect accuracy and in unfavorable light conditions. This is a decisive advantage when working outside in sunny weather. Even if the red laser point is no longer visible to the naked eye, the target can be seen exactly in the crosshairs on the display.
Modern ergonomics
Providing the simplest possible operation of complex measuring functions is a must for Leica Geosystems. The Leica DISTO™ D410 has been adapted to the user interface of modern cell phones. Furthermore your favourite functions can be assigned to a pair of selection keys, for quick access with a single button press. And the integrated, easy-to-understand help function does not leave you in the lurch on site.
Tough and easy to clean - IP65
The housing and keypad are specially sealed against water and dust. Cleaning under running water is also no problem. Furthermore the laser distance meter can be used in all weather conditions, being dust-proof and water jet protected.
Smart Horizontal Mode
Even if obstructions such as walls, hedges or people stand in the direction of the target, the Leica DISTO™ D410 quickly comes up with an accurate result thanks to the "Smart Horizontal Mode™". One measurement is enough for the required horizontal distance to appear on the display.
ISO Standard 16331-1 – The standard for laser distance meters
The range and accuracy of laser distance meters depend on light conditions and reflectivity of the measuring target. For Leica Geosystems it is important that the instruments not only perform under perfect laboratory conditions, but above all under the kind of everyday working conditions encountered on construction sites. This is why, working together with external experts, the company have developed a standard by which laser distance meters can be tested and compared with each other.
| Function | Availability |
| --- | --- |
| Minimum / maximum measurements | |
| Area / volume measurement | |
| Painter function | |
| Pythagoras function | |
| Smart Horizontal Mode™ | |
| Stake-out function | A / B |
| Subtraction / addition | |
Typical measuring accuracy
± 1 mm
Range
up to 150 m
Measuring units
m, ft, in,
Power Range Technology™
yes
Distance in m
Ø of the laser dot in mm
10, 50, 100 m
6, 30, 60 mm
Tilt sensor measuring range
No
Pointfinder with 4x zoom
Yes
Memory
30 displays
Free App
No
Data interface
No
Measurements per set of batteries
up to 5000 measurements
Multifunctional end-piece
automatic recognition
Batteries
type AA 2 x 1,5 V
Tripod thread
yes
Protection class
IP65 – water jet protection and dust-tight
Dimensions
143 × 58 × 29 mm
Weight with batteries
198 g
The Leica Disto D410 laser distance meter is delivered with a holster and hand loop. Batteries are included.