CS-20 Heavy Duty Speed, Length Contact and Non-Contact Digital Tachometer
The CS-20 Combination Hand-Held Digital Tachometer combines the best features of both contact and non-contact models to accurately measure RPM, surface speed and length.

When the non-contact mode is used, rotational speed (RPM) is measured using a visible beam of light. The CDT-2000HD can be up to 24 inches away from the small piece of reflective tape that is affixed to the rotating element. When operating in the contact mode, the speed is sensed by directly contacting rotating device using one of the contact adapters supplied with the instrument.

The CS-20's rugged construction, portability and outstanding features make it an perfect choice for use in maintenance processes. It is ideal for machine operators in a wide variety of machinery and material handling applications.

In various applications where surface or linear speeds are to be measured, the universal wheel is used. The CS-20 can also be used to measure the accumulated total of continuously running material such as paper, wire being wound on a spool, or to check the calibration of on-line counters and totalizers.

Special model CS-20-SL
On this model the measuring
wheel has additonal flanges to simplify centering the cable on the measuring wheel.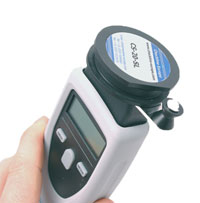 See Image on the right.
Built-in memory stores maximum, minimum, average and last reading for recall to the display
NIST Certification included at no additional cost
Accuracy of 0.02% with a resolution of 0.01 RPM
Measures speeds from as low as 1.00 rpm up to 99,999 rpm
Molded Rubber Shell Provides Additional Physical & Environmental Protection
Can be set for use with 2 optional-sized surface speed wheel (6 inch or 12 inch)
Ideal for measuring speed and length of yarn, fibre and wire

Units of Measure Indicators show the units of measure, selected by the user.

Contact Indicator shows if contact or non-contact operation is selected.

On-Target Indicator confirms that the measurements are reliable.

Low Battery Indicator alerts the operator if the batteries need replacement.

Memory Indicators are illuminated when the maximum, minimum, average and last readings are recalled to the display for viewing.
The CS-20 includes the Tachometer, Slide-In Contact Adapter, Cone Tip Adapter, 6" Universal Surface Speed Wheel, Reflective Tape, Two (2) AA Batteries (1.5 V) and Operating Instruction Manual -- all supplied in a foam-fitted, hard-plastic Carrying Case.

RPM:
Non-Contact: 1.00 - 99,999 rpm
Contact: 1.00 - 19,999 rpm
Surface Speed:
0.30 - 6,500 feet/min
0.10 - 1,999 meters/min
4.0 - 78,000 inches/min
Length:
0.01 - 99,999 feet
0.02 - 99,999 meters
1.0 - 99,999 inches
Resolution:
0.01 from 0 - 100
0.1 from 100 - 1,000
1 from 1000 - 99,999
Accuracy:
± 0.02% of reading or 1 digit
Display:
5 - Digit LCD, 10mm high
Memory System:
Maximum, minimum, and last reading (retained in memory for the life of the batteries)
Measurement System:
Non-Contact: Visible LED light beam
Contact: Contact adapter
Engineering Units:
RPM: RPM
Surface Speed: Ft/min, inch/min & meters/min
Length: Feet, inches, meters
Sensing Distance:
Up to 24 inches (60 cm)
Display Update Time:
0.5 seconds or one measuring
Auto Power Off:
After 30 seconds of non-use (minimum, maximum and last reading retained in memory)
Battery Life:
40 hours continuous use
Weight:
6 ounces (170 grams)
Housing Material:
ABS Plastic housing with removable protective rubber shell
Operating Temperature:
32 to 122º F (0 to 50º C)
Storage Temperature:
-4 to 150º F (-20 to 70º C)
Accessories included:
Contact adapter, cone tip, universal surface speed wheel, reflective tape, operating instructions and foam-fitted, hard plastic carrying case
Optional Accessories:
Shaft extension, 3.15 inches (80 mm)